でじまくん(DEJIMA-KUN)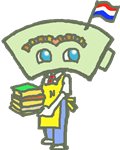 He is the official character of this campaign. He is a librarian.
On his Dejima shaped face, a flag of the Netherlands is waving.
You cannot see his mouth because he is very quiet. His eyebrows are shaped like the "Spectacle bridge", which is famous sightseeing spot in Nagasaki.
If you look at them closely, you will find a heart shaped piece.
Maybe your love will come true by touching the piece.
おまがり~ず(OMAGARY-Cats)
An inhabitant of "the forest of books"(the library).
In the 2016 game project "Get back Omagaries' names!", their names were stolen by a witch.
Many students joined the game to help "Omagaries", and fortunately, all of them got their names back.
They protect "the forest of books" in peace now.
名前
なが(NAGA)
さき(SAKI)
らいぶ(LIB)
ラリー(RALLY)
らぶ (LOVE)♡
容姿
性格
He likes to stay in the sun light but he doesn't like books to be tanned.
He protects the area for Nagasaki books.
You can borrow his glasses, but don't forget to return them on his head.


She is an active girl, and good at searching books.
She likes to look through Nagasaki's local Magazines and plan for lunch.
She is mixed with an unusual type of cat called manx.


He is known as a walking dictionary. "Japan Knowledge" is his rival.
The alarm on his collar goes off if you take him out of the library.
He wants to be an assistant of Dejima-kun.

To be a global cat, he studies TOEIC with his exercise book and CDs.
His dream is to order Sasebo burger in English.
He likes to watch musical movies.


Although he is a male cat, he
works out to be chosen for "Miss. universe".
He likes to put bound journals on his head. If you touch his heart shaped pattern on his back, you might get a luck for love.


ひめ課長(
Manager
Hime

)
She is Dejima-Kun's boss, and born in a noble family in Hirado.
No one knows her age, her favorite phrase is
"
Gokigenyo
"
.