"Library Lovers' Nagasaki"
has started in 2016 in Nagasaki, following the "Library Lovers'campaign". "Library Lovers' campaign" was a campaign held in the university libraries of Kyushu area from the years 2010 to 2015.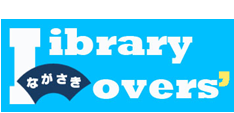 To express the sea surrounding Nagasaki, we chose a beautiful pale blue color for our logotype. In the first letter "L" you can see the shape of "Dejima" the most famous island in Nagasaki.
This campaign will be held every year in autumn during 「読書週間」(dokusyo shukan), which means "weeks for reading books". 「読書週間」starts from October 27 to November 9, so the campaign will include these days, and it will be going on for 26days. We are going to plan fun games for you to join in, so let's enjoy this event together!
"Library Lovers' Nagasaki"
をどうぞよろしくお願いします!